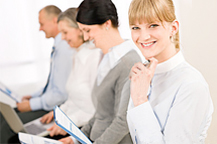 We are delighted to announce that our new course will start soon. For more information, please call us at +852 3975 3283 for a trial lesson or a pre-course assessment meeting.
​

The Business International Language Institute (BILI)
BILI is a specialized language centre dedicated to educating students in a variety of international languages within a business context.
Our ethos is to provide students with high-quality language training that facilitates effortless business-oriented conversations whether in a formal or informal setting.
We strive to make the process of learning languages fun, interesting and straight-forward. Whether it is for professional reasons or just for pleasure, BILI has the experience and skills to assist you to reach your individual goals.
We take pride in a personalized, proactive and detailed approach to your learning journey, from initial needs analysis and level assessment through to completion of your educational goals.
Conveniently located in the heart of Hong Kong, BILI is a specialized language center that caters for multiple languages including:
• English,
• Mandarin,
• Cantonese,
• French, and
• Japanese.
When you first make contact with us we will discuss your requirements and help you select a course that best suits your educational needs. We offer group or individual tuition within our language centre in addition to specially designed language courses delivered on-site at your company.
Our professional language trainers are ready to coach and guide you through the process of learning from initial assessment to fluency.
Please make contact with us now to secure your booking as course availability is limited.